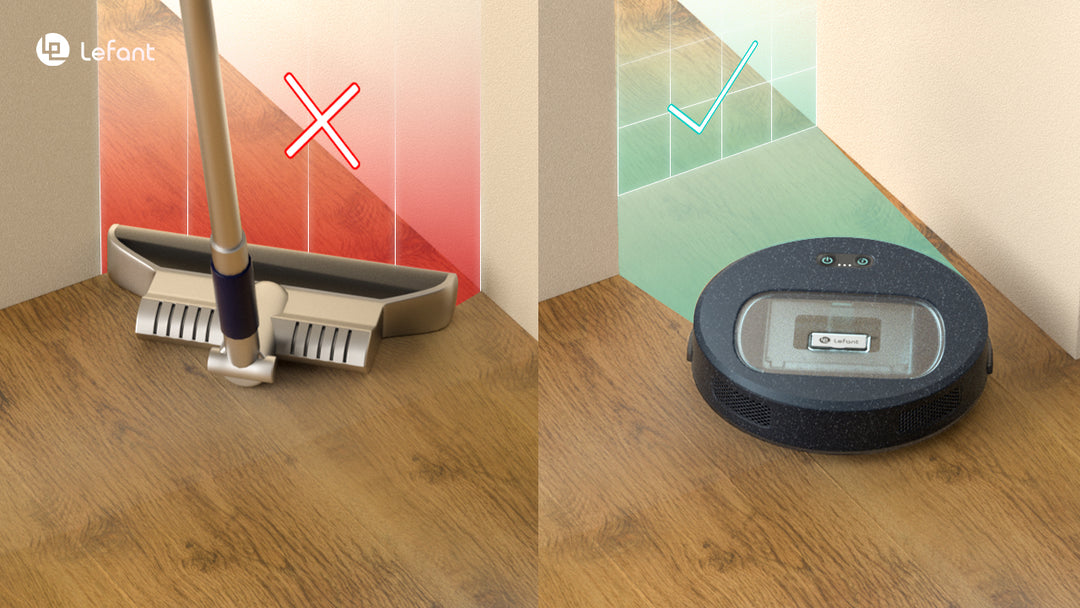 Posted on
---
Where can you get the greatest robot vacuum cleaners, and what considerations should you make while shopping for one? Home cleaning methods that require the least amount of human intervention are highly sought after, as are those that are both efficient and labor-saving. The idea of a cleaning robot is one of the most intriguing. Using a robot vacuum instead of a traditional upright vacuums will save you time and more free without power cords. While your robot vacuums, you can go about your normal daily activities. Your home will be cleaner than before.
A cleaning robot may appear straightforward at first glance, but there is a lot that goes into its function. Vacuum cleaners and mopping machines can both be found in standard models these days. In order to make sure you choose the correct cleaning gear, there are a few things to keep an eye out for. The following are some guidelines to bear in mind while purchasing a robot vacuum or mop.
Types of robotic vacuum cleaners
The term "robot vacuum cleaner" is used to describe the majority of today's mainstream options for cleaning robots. Its suction is strong enough to pick up dust, grime, and other minor pollutants, and it follows a predetermined path to clean as much of your home's floor space as feasible. After each cleaning session, most robot vacuums recommend emptying their dustbins. Right now, this is the most basic type of cleaning robot available for purchase online.
To clean hard floors, you can also purchase an automated robotic mop. Robot mop robots include water reservoirs and mechanisms to either spray or drip the water onto the floor for an attached mop cloth to run over and disperse evenly on the floor. After vacuuming or physically sweeping the floor to remove the first layer of dirt, this is the next step in the cleaning procedure.
Most popular today are vacuuming and mopping robots, like Lefant, which combine these two activities into a single machine. Vacuum and mop operations can often be performed by the same robot, saving you time and removing the need for two separate machines.
Is your house a good fit for a robot?
Considering that most modern floor cleaning robots are wheeled, your home's floor type, and whether or not you have any barriers or partitions will all have an impact on how successful the gadget is. Since the wheels of most cleaning robots can only grip and run freely on bare floors like granite or marble, these surfaces are ideal for these robots. Some robot vacuum cleaners, especially Lefant, on the other hand, should be able to handle carpets and rugs that are particularly thin.
Since stray rugs and carpets might get caught in the suction mechanism and cause the robot to stop cleaning, keep them out of the way while it's working. Lefant M210B cleaning robots is able to climb up to 15°, which allows it to work in the hardwood floors and low-pile Carpet. However, thick carpets or large seams in the flooring will impede most robot cleaners' ability to move freely throughout the house.
It's also possible that you'll have to raise the robot and set it in rooms you want cleaned because of things like partitions, stairways, and low furniture. Well, that's not a question to Lefant. All Lefant Robots are so compact that can shuttle under the low furniture such as bed, TV table, while it can also freely go around table legs. Drop protection is standard on most cleaning robots, and some even include hardware-based laser barriers, so you shouldn't have to worry about the safety of your device. So I've tested my Lefant F1 on the desk, which never fall down and has great cleaning performance.
The charging dock must be placed on the floor in a spot where the cleaning robot can drive directly into the dock after cleaning cycle is over. As long as the dock can be plugged into a power outlet, it can go just about anywhere. When parked on a charging port, my Lefant F1 cleaning robot always ready to go and be left on whenever I need it. Lefant F1 has longer battery life thanks to its 3600mAh high capacity Li-ion battery.
How the robot knows where it's headed?
There are a variety of maneuvers that cleaning robots can perform in and away from the home. Most basic of these is a camera, which provides visual cues like walls and furniture to the robot. Complex algorithms allow the device to comprehend what the camera sees in order to navigate around the house, and even return to its charging port when the work is complete.
Unlike most robots, Lefant adopts the six-axis gyroscope, grating signal sensor, and left and right wheel power sensing unit which scans for walls and obstructions, a Freemove technology. To move fast and record real-time sensing data, including collision status, barrier-free running status, threshold crossing status, and obstacle running status, this is generally more accurate than camera-based navigation.
When it comes to using the smart cleaning app, how crucial is it? 
An app can make even the most self-sufficient cleaning robots more enjoyable to use by allowing them to roam your house on their own without the need for manual intervention. Lefant's companion apps for Android and iOS allow you to control your cleaning robot from any location with wi-fi connected.
Vacuum and mopping are just some of the features that may be controlled and scheduled using a well-designed app. Google Assistant, Siri, or Alexa can also be used to control most Lefant cleaning robots using voice commands, which you can use on your smartphone or through a smart speaker, or from other smart devices. The software can also keep a map of your house, which you can use to direct the robot to clean specific rooms or locations for Spot cleaning.
Recommendations: Is there a particular cleaning robot you should purchase?
It's fact to admit that the Lefant M210 Robot Vacuum is the finest value for money option currently on the market. It costs just $115.99 and includes vacuuming, mopping, Freemove2.0 technology, and a fantastic app for simplicity of use. Despite this, the equipment does require more stronger suction power.
A little more expensive than the Lefant M210, the Lefant M210B provides more powerful overall suction and has a app that gives you a lot of control over the individual duties that this gadget can perform.
Lefant F1: The Lefant F1 is little more expensive than the Lefant M210 at $299.99, but it does a fantastic job of vacuuming and mopping. With upgraded Freemove3.0 technology, it will never get trapped upon anywhere, even medium pile carpet. Twice than the M210B, F1's suction is enough to remove most kinds of dirt.
Information
Sign up to our mailing list