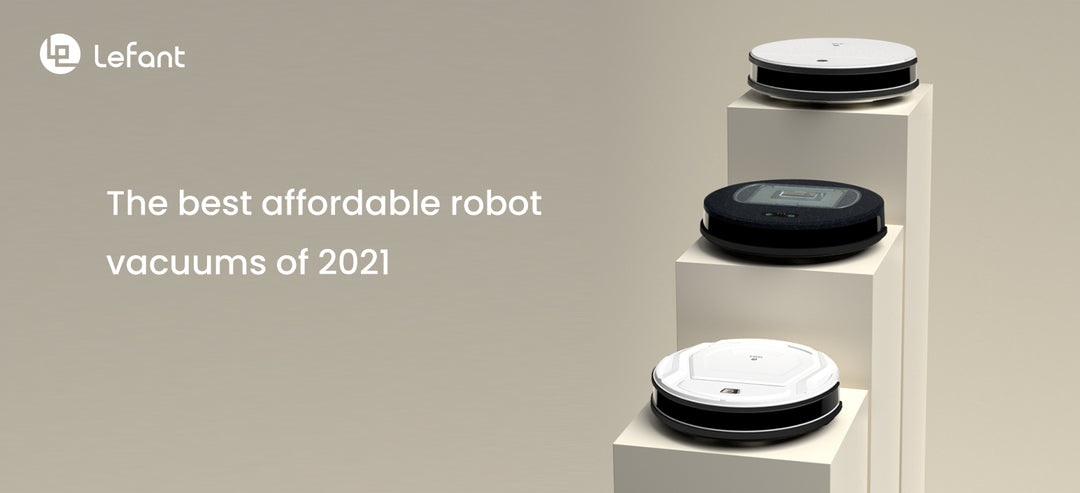 Posted on
---
Although robot vacuum cleaners can cost upwards of $2,000, keeping your floors clean doesn't necessitate shelling out that much cash. Many models are available that will do the job without breaking the bank if you're on a tight budget. There are plenty of good affordable robot vacuums to choose from. Consequently, we've compiled a list of our top-rated Lefant robot vacuums that cost less than $300.
They take care of everything
The appeal of a robot vacuum is based on this simple fact. You don't have to lift a finger to have them clean up your mess. As a busy person or a lazy person, this is a game changer because it saves both time and effort without sacrificing the cleanliness of your home. Even if you're working all day, have a new baby, or just hate vacuuming, a robot vacuum is the closest thing to a professional live-in cleaner that many people will ever have the opportunity to use.
The winner: Lefant F1
There are a lot of different Lefant vacuums out there, and we've tested them all. The app has become cleaner and easier to use over the years as their suction skills have gotten stronger and stronger. We're currently testing the Lefant F1, a latest Lefant, and it appears to be the best value. Lefant F1 robot vacuum has a suction power of up to 4000PA, over twice the suction power of Lefant M210, ensure all dirt, dust, and crumbs are removed from your floors and carpets.
Wi-Fi-enabled F1 features mopping, magnetic strip, and anti-collision detection that I've previously seen on much more expensive robot vacuums. This is one of the few robot vacuums that doesn't get tripped up on my kitchen step, and it can run for up to three hours on a single charge. Additionally, the trash can is a little larger than normal. Not mention the F1 robot vacuum deals with pet hair with its brushless port rather than others' brush roll, which is great for pet owners.
Our runner up: Lefant M210B
There are a number of $150 or less Lefant M200 series robot vacuums available from the company. While there are some minor differences, such as the M210's 1800Pa suction power versus the slightly more expensive M210B's 2000Pa suction power; different vacuums may have different appearance styles, but for $150 or less, a Lefant M210B is a good buy.
Freemove2.0 technology has been upgraded and the app is simple to use, while the vacuum is quiet and powerful. There are 4 Clean modes cater to meet your needs: including Auto cleaning; Spot cleaning; Edge cleaning; Manual cleaning.
Best cheap robot: Lefant M210
For a cheap vacuum that can bounce around your kitchen after dinner, there are a number of excellent options.
The Lefant M210 has been the most effective and cost-effective so far. Compared to other budget vacuums, this one's battery lasts a long time (more than 100 minutes) and it easily navigates around my kitchen step. Wi-Fi and Alexa-enabled, and it connects to Lefant's app like the other two vacuums above.
What to look for when shopping for a robotic vacuum cleaner?
You can find a wide selection of robot vacuums at Amazon's from a variety of top brands. Your home's size, the type of flooring you have, and your budget all play a role in determining which model is best for you. The entry-level Lefant M210 Robot starts at $98.59 and goes up in price as more and more advanced features are added.
Freemove technology
A robot vacuum's autonomous nature is one of its greatest advantages, allowing it to clean your home without you having to manually direct it. To do this, a number of sensors are needed to prevent getting stuck, which includes all the walls, furniture and other potential obstacles the cleaner may encounter. Freemove technology is used in all Lefant models like the M210B and F1 to travel around your home, avoid getting trapped, and transmit it to your user app. These help the robots navigate each room and clean with the most efficient path for each one.
Functions related to mopping
Cleaning with a robot can save you time and effort by automating multiple chores at once. In models such as the Lefant F1, you can have your robot mop and vacuum at the same time as it moves across your floor, whether hardwood floors or bare floors. Cleaning time is slashed in half if you use this method.
Sensors
Lefant robot vacuums have sensors in addition to avoiding obstacles to keep your vacuum on track and out of harm. Lefant robots that can safely navigate your home in its cluttered, lived-in glory are essential because it is rare for a room or floor to be completely empty or perfectly level. Your vacuum cleaner's safety depends on sensors that detect stairs and drops, which cause your robot to turn heel and go the other way when it comes to steps it might otherwise fall down. In the event of a collision, anti-collision sensors will prevent the cleaner from slamming into anything it encounters, such as furniture, people, or animals.
Integration of apps
Cleaning your floors is no longer a chore that can only be done with a smartphone app these days. In addition to remote controls, most of our robot vacuums also feature smart app integration. To remotely control and monitor your robot, you can use Wi-Fi with models such as the F1 and the entire Lefant M210 range. Once your robot is connected to smart home and has mapped out your home, you can use the app to schedule cleaning times and send the cleaner back to its charging station via the cloud. 
Battery life
Convenience and maneuverability come at the expense of a corded vacuum's indefinite runtime. Between charges, how long you need your robot to keep kicking depends on the size of your house. One-bedroom apartments take less time to clean than a large family home, so no one wants to stop in the middle of the process and wait on their service provider to recharge. Running time is around 100 minutes, with the longest being the Lefant F1 at 200 minutes. But keep in mind that these estimates are based on each cleaner's lowest power function, and increasing the power or suction will decrease the expected runtime. Even though robot vacuums aren't as convenient as other cordless models, many of them can be programmed to automatically return to their charging stations after cleaning cycle is complete.
Information
Sign up to our mailing list