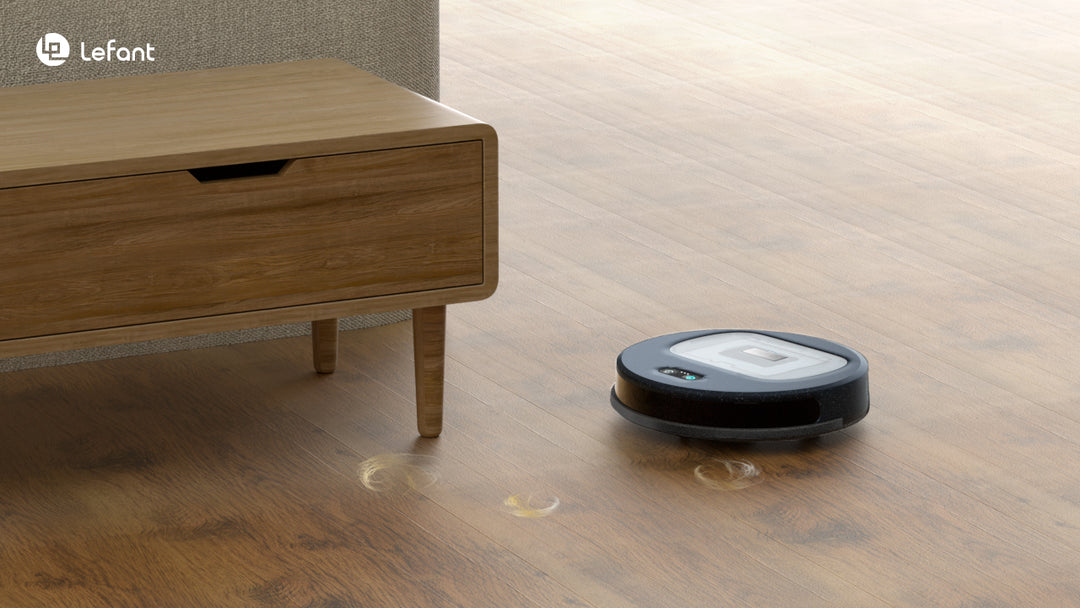 Posted on
---
It can be difficult to keep up with the attention required for hardwood floors. If you don't vacuum your hardwood floors at least twice a week, you're putting them at risk of aging due to wear and tear, the accumulation of dust and debris. Much worse if you have a pet, there always seems to be some pet hair around - which is why it's recommended to do so at least twice a week.
Despite the fact that all robot vacuum cleaners are designed to clean your floors, some include particular features, such as self-emptying capabilities and angled profiles, that make corner cleaning easier. The majority of robots are designed to clean your floors and remove hair, dirt, and other debris.
With thousands of customer evaluations, we've found the best Lefant robot vacuums for hardwood floors and pet fur, so you can select the ideal one for your home. Keep reading to find out which Lefant robot vacuums customers are most favorite.
Best for all floor types: Lefant F1
The remarkable suction power, lengthy battery life, and relatively low $299.99 price point of this Lefant F1 robot vacuum have led to over 90% 5-star reviews. You can use Alexa or Google Assistant to control the popular device, which has four cleaning modes and cleans both flooring and carpet surfaces. Because it has built-in anti-collision technology and will automatically return to the charging dock when its battery is running low, you won't have to worry about it becoming caught under furniture due to its upgraded Freemove3.0 technology. As one customer put it: "We have hardwood floors and this small vacuum picked up so much hair and dust! The best bang for your buck!"" Wi-Fi setup is simple and the app works well. I can schedule cleaning on my phone even if I'm not home."
And if you detest cleaning floors as much as you hate vacuuming them, the Lefang F1 is your must-have. Using this time-saving device, you can vacuum and wash your floors at the same time, resulting in significantly reduced cleaning time. It also will be no puddles left behind. Maintaining cleanliness on a daily basis is a terrific use for this product. One customer said, "Absolutely love my Lefant." "I'm a stickler for spotless floors, but I figured it was impossible with four kids, many visitors, and a dog in the house. In fact, you're incorrect! When I press a button on my Lefant, it takes care of the mess, restoring my sanity. I usually run it twice a day, first thing in the morning and at night. My floors are finally clean, and I'm so happy!"
Best for pet owner: Lefant M210B
Consider purchasing a Lefant M210B robot vacuum if your hardwood floors are regularly strewn with pet dander. As well as removing dirt and other debris from the floor, it has tangle-free pet hair care technology that particularly targets pet/dog hairs. Although Lefant F1 is also equipped with this unique brushless port and side brushes design, Lefant M210B is much cheaper than the F1.
In addition to the anti-fall sensors and a 100-minute battery life, the self-charging vacuum includes other features. 'My entire house has hardwood floors, so this vacuum is perfect for us,' remarked one satisfied customer. "They both( two dogs ) have hair that falls out of their bodies, which is why we need this robot. It's unbelievable how much pet hair it can collect." You may have to empty the dustbin daily, but the clean floors are worth the effort, according to customers.
Best affordable choice: Lefant M210
This Lefant M210 robot vacuum has nearly 1,000 five-star reviews, making it one of the popular cheap robot vacuums on Amazon. A self-charging system, 1800Pa suction force, a dustbin that holds up to 0.5 liters, and a long runtime of up to 100 minutes round out the list of features for this smart vacuum. According to one customer, "I was startled to see how much filth a family of four with two cats makes after replacing our carpet with hardwood floors." "I'm a big fan of this small, silent vacuum cleaner, and it's a great value for the money. For about an hour, it cleans our floors and then returns to its charging station."
For the most part, any good vacuum, corded or cordless and upright or canister, will do a great job picking up pet hair on both hard and carpeted surfaces. By using real cat and dog hair, we've tested each of vacuum styles, and they all performed admirably. Traditional vacuums are great, but they can't keep up with the rate of shedding—unless you have an all-the-time vacuum. Therefore, the best vacuum for pet hair is a robot vacuum.
Despite the fact that robot vacuums are still a relatively new concept, there are a large number of choices available. Here are some specifications you should keep in mind before making a final decision.
Pet hair, dirt, and grime have to go somewhere, and that somewhere is the dust bin. Most robot vacuums have the shortcoming of not being able to hold a lot of debris, so you'll have to empty the dust bin after each cleaning session. Larger dust bins with hepa filter are available on some higher-end models, such as the Lefant F1.
There are two reasons why the size of your new cleaning robot is significant. Larger vacuums can't go under low couches, but smaller ones can. A huge vacuum, on the other hand, can be cumbersome in a tiny flat and could obstruct the flow of traffic. That's why I love the Lefant F1 most.
It is possible to operate most robot vacuum cleaners via an app on your smartphone, although a remote control is supplied. Some of these vacuums can even be activated by voice commands, such as cleaning up the cereal you spilt while working from home while connected to a smart home assistant like Alexa. With the addition of voice control, using an app is much more convenient and offers more functionality than using a remote.
Longer battery life is a must if you have a large house with a lot of dirt and grime to be vacuumed up. As a result, the vacuum may complete its task in a single pass rather than requiring a recharge midway through.
Information
Sign up to our mailing list