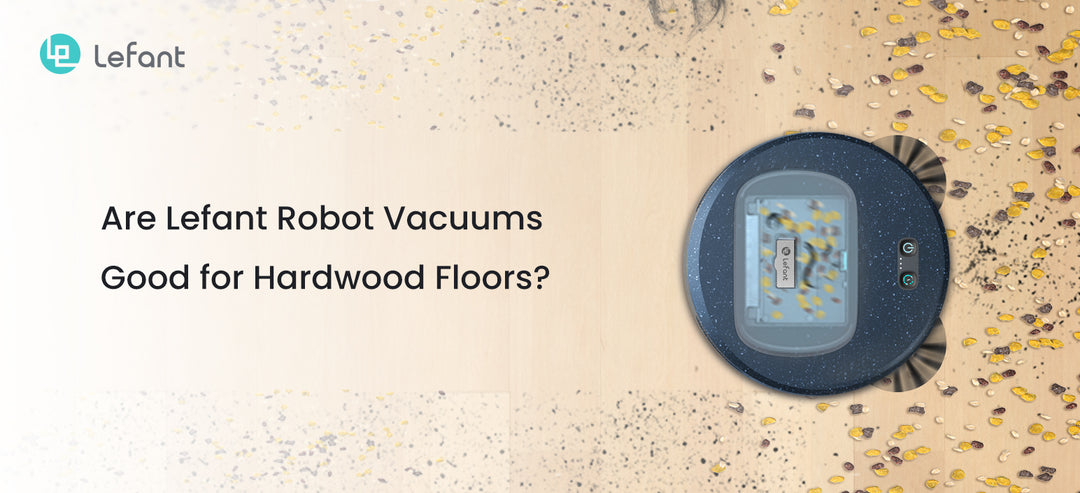 Posted on
---
Are Lefant Robot Vacuums Good for Hardwood Floors?
Because bare floors, even surfaces are easier to maneuver on and have fewer small crevices for dirt and debris to get trapped in, robot vacuums have always been best suited for hardwood floors. A robot vacuum may be a useful cleaning help for many homeowners because it eliminates the stress and labor of cleaning while also ensuring that it does not become stuck. Still, some robot vacuums for hardwood floors perform better than others on this surface, as the best robot vacuums for hardwood floors should be able to clear everything from pet hair to large chunks of debris with ease.
A decent robot vacuum for hardwood floors collects dust and grime from all corners of the room without dispersing material or damaging delicate hardwood flooring.
What to Think About When Buying a Robot Vacuum for Hardwood Floors?
Hard floor surfaces are generally easier to clean with a robot vacuum than pile carpets. The majority of high-quality robot vacuums can deep clean your floor without causing damage. Soft wheels, multisurface adjustment options, and gentle sweeper brushes are all features that can help a robot vacuum clean hardwood floors better. The good news is, that these functions are standard on most high-quality vacuums from reputable manufacturers, like Lefant.
Consider square footage, vacuum size, suction power, cleaning modes, noise level, and other convenience features when selecting the ideal robot vacuum for your home.
Square Footage
A robot vacuum cleaner can clean a variety of spaces, although some are more efficient than others. Consider your home's square footage when selecting a robot vacuum, especially if your floor plan is large.
The battery life and dust bin capacity of robot vacuums are also limited. Most vacuum cleaners can run for 60 to 90 minutes before needing to be recharged, which is plenty for most compact floor plans. Look for a vacuum that can run for 100 minutes or more on a single charge for larger floor layouts. For larger households, the same principle applies: look for a vacuum dust container with a higher capacity (preferably above 600 ml). So, if you have a large house, Lefant F1 must be a nice choice. After all, Lefant F1 has a large 600ml visible dustbin, and it can hold lots of garbage steadily without any burden, overflow or secondary pollution, that means you don't need to clean the dust box frequently. Equipped with 3600mAh large capacity Li-ion battery, Lefant F1 ensures clean work up to 200 mins or 200 Square meter.
Size
Most robot vacuums resemble a huge puck with a diameter of 13 to 14 inches and a height of 3 to 4 inches. Robot vacuums have modest dust bin capacities, usually around 500 milliliters, due to their small size. Whereas Lefant F1 has just a diameter of 11 inches and a height of 2.7 inches, equipped with a large 600ml visible dustbin.
Look for a tiny, low-profile vacuum if your home has a lot of narrow spaces or low furniture. The Lefant F1 is one of the smaller robot vacuums, which is more flexible and less likely to get stuck between two pieces of furniture. Clean beneath low furniture with a slimmer body.
Larger robot vacuums may be a little more cumbersome than their smaller counterparts, but they can accommodate a bigger motor or dust container. For larger spaces, a vacuum with these qualities is a superior choice.

Hard floors are less difficult for a robot vacuum to clean than carpeted surfaces, which tend to collect hair and debris. The suction power of high-quality hard floor or multi-floor robot vacuums can capture ordinary trash from any hard floor surfaces. Most traditional vacuum have a sweeper brush to gather litter toward the suction path and prevent debris from being scattered by the vacuum.
The suction power of a robot vacuum cleaner is measured in Pascal Pressure Units (PA), which can range from 1,000 to 4,000 PA. Speaking of suction power, Lefant F1 is rare designed with a suction power of up to 4000pa, which allow to effortlessly collect pet hair, beans, snack crumbs and other debris on the floor in your home. It doesn't only have enough suction to remove particles from hard surfaces, but also paired with an advanced side brush roller design. To a great extent, it has solved the trouble of tangled hair.
Special Features
With so many smart-home items on the market these days, it's no wonder that robot vacuums may be geared with them. Smart robot vacuums such as Lefant F1, with WiFi connectivity link to a smartphone app, giving you complete control. Remote controls, scheduling, no-go zones, cleaning history, detailed maps, and other features are available.
The Freemove3.0 technology is worth talking about that is built-in anti-collision infrared sensor which can automatically sense obstacles encountered by the whole body and retreat. This technology is Lefant's original sweeping robot integrated whole body detection technology. When the maximum gear is turned on, the obstacles in front can be sensed in advance and will not be arbitrarily crossed, such the stairs, wall, chair and desk legs, kitchen stove, etc. So, that further guarantees the anti-jamming.
Our Top Pick 
A robot vacuum is the ideal cleaning partner for keeping your floors free of clutter. They enjoy coming to work every day, so you can come home to spotless floors even when you're pressed for time. The best hardwood floor robot vacuum – Lefant F1 is dependable and simple to use.
Information
Sign up to our mailing list