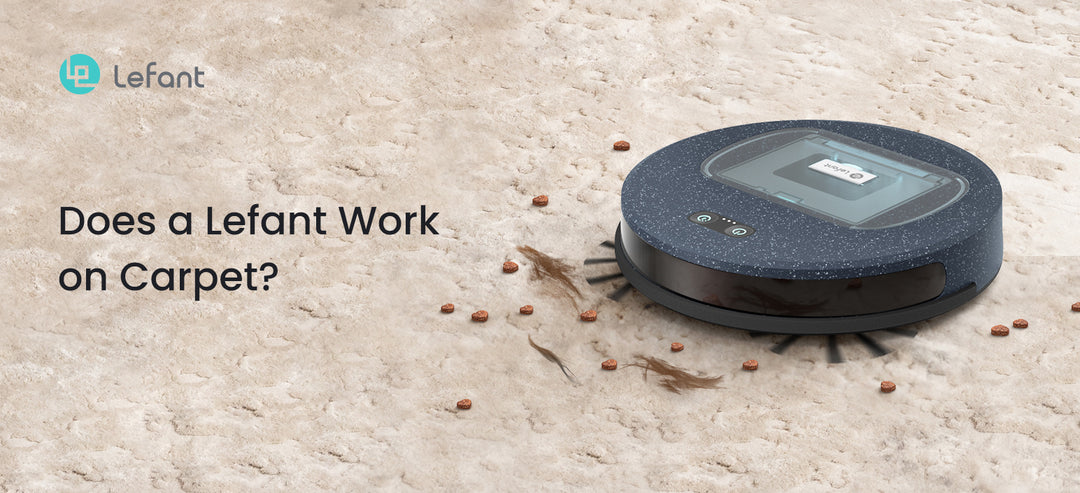 Posted on
---
Robot vacuum cleaners has evolved into our personal housekeepers. Robot vacuums keep up with demand as our reliance on them grows, thanks to sophisticated features that let us schedule cleanings while we're away, arrange them with voice commands, and specify which areas should or shouldn't be cleaned.
However, if your home is primarily carpeted or has a lot of rugs, the convenience of a robot vacuum becomes problematic. Many robot vacuums have been known to get caught in odd areas, be perplexed by dark flooring, or refuse to transition from hardwood to carpet. Will a robot vacuum make life easier or make it more difficult every time it chews a tassel or gets stuck transitioning from bare floors to high pile?
Is robotic vacuum cleaner good on carpet?
Not all robot vacuum cleaners are capable of cleaning your carpets. Some people simply don't have enough suction or clearance to handle thick, high-pile carpet correctly. When choosing a vacuum, check the product page for each robot vacuum to see what carpet height it can manage. While most recommend low-pile carpet or flat-weave rugs, some vacuums can handle medium or even fluffy, high-pile carpet.
Carpets and rugs are where pet hair, crumbs, and dust go to die, so having a powerful (but methodical) suction system is essential in houses with a lot of difficult-to-clean floors.
According to a general rule of thumb, upright vacuum cleaners have greater suction power than small robot vacuum cleaners. When it comes to robot vacuums, seek for ones with suction levels between 1800 and 2500 Pa to ensure that the carpet fibers are thoroughly combed of the debris they've been harboring for as long as possible. The majority of current vacuums include a boost mode that automatically activates when the vacuum detects the presence of carpet. The same sensors should be intelligent enough to allow for a seamless transition from light carpeting to dark hardwood floors, rather than mistaking them for a cliff.
For carpeting, additional features such as dual brushes and automated cleaning brushes are a terrific addition. You should anticipate hair to become firmly ingrained in your carpet if you have a dog (or a roommate) who sheds like it's their job. When using a regular vacuum, hair tends to become tangled up in the brushroll; however, robot vacuums with dual brushes or self-cleaning brushes will save you the time and effort of having to pull the hair spool from your vacuum once a week.
Are Lefants a good choice for homes with carpet?
Lefants are extremely useful to have around the house in order to reduce cleaning time. If you have largely carpeted floors, you might be thinking if buying a Lefant is a wise idea, and if so, which model to get. There are a variety of models to pick from, with prices and features varying.
Other questions you might have about buying a Lefant include whether it can replace your traditional vacuum and whether it works on carpet. We'll provide you professional suggestion on how to choose a specialist vacuum with the characteristics that are important to you.
Lefant fundamentals
Lefants are robotic vacuum cleaners that clean up after commanding by smartphone app. They're set to vacuum from room to room while you go about your day. A Lefant is a smart vacuum cleaner that you can set up and forget about for a while.
These appliances are programmed to turn on and off when and where you choose. The older models are less expensive, but they don't come with as many added functions. The most recent models are capable of easily vacuuming pet fur. One model has far stronger suction power and is designed primarily for carpeted surfaces.
Lefants work well in both hardwood and carpeted areas. You can trust them to clean up daily messes on any surface in your home. However, certain models are better for carpet than others; we'll go over the top three.
These three robot vacs were chosen for their affordability, quality, and ability to clean carpeted floors. All of the models have something special to offer that makes them worthwhile to consider.
Ordinary vacuum cleaners are noisy and make you impossible to work while they're running. Lefant, on the other hand, is a quieter choice. You may still hear some noise, but it will not be as loud as if you were using a standard vacuum.
Best Lefants for carpet
We've highlighted a few of the Lefant higher end models for you. All of these will do well in a carpeted home. Aside from that, each has its own set of capabilities that may or may not appeal to you, depending on your lifestyle.
Lefant M210
If you don't want to spend a lot of money but still want to try out a vacuum, the Lefant M210 is a great option. It costs less than $115.99 to get started. It contains upgraded 6D built-in anti-collision infrared sensors and will self-recharge. It's one of the most affordable solutions for cleaning carpets and hard surfaces. With an 11'' diameter and 2.8" Height. The M210 robot can work under or around the bed, sofa, and other furniture for a thorough cleaning with high coverage and ultra-low failure rate.
Lefant M210B
The Lefant M210B is a mid-range choice, costing around $179.99. It is perfect for carpets and hard flooring because it is equipped with FreeMove2.0 Technology. This vacuum will also avoid getting trapped, sparing you the trouble of having to retrieve it from a corner. It has a suction power 200pa more than the M210.
The same size as Lefant M210, Lefant M210B can climb up to 15° which allows it to work in the hardwood and carpet non-stop and clean thoroughly, which is ideal for low- to medium-pile carpets, tile, laminated, and hardwood floors. Not suitable for high-pile carpet.
Lefant F1
The Lefant F1 is the top robot vacuum on the market right now, with a relative hefty price tag to match. Its market-leading 4000Pa suction power is ideal for houses with more carpeting that collects a lot of hair and debris. The best of all is that F1 vacuum robot equipped with the brushless suction port design which can effectively prevent hair from being entanglement. The F1 is also geared with 3600mAh large capacity Li-ion battery to ensure work up to 200 mins or 200 Square meter. The battery life is much longer than M210 and M210B.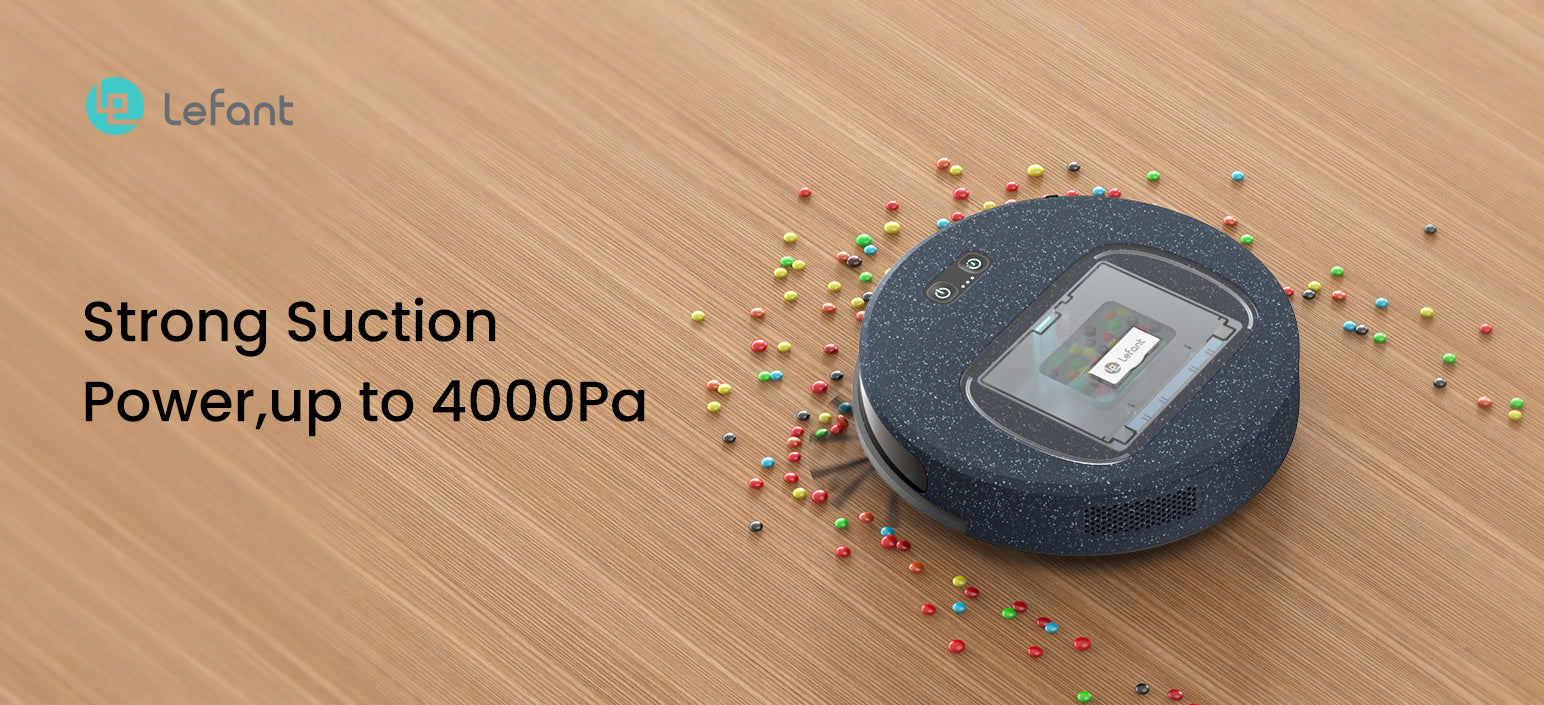 The Lefant F1 sensors and Freemove3.0 technology make it simple for it to learn your home's floor plans. It can distinguish between different rooms of the house, allowing you to send it to a specific room if there's a mess, and it learns as you use it, allowing it to automatically sense obstacles encountered by the whole body and retreat.
The F1 robot vacuum has a thinner body than M210, with a diameter of 11 inches and a height of 2.7 inches, but equipped with a larger 600ml visible dustbin that can be easily seen whether it is filled. Smaller size means it can enter more narrow spaces, corners, sofa blind corners, sweep more areas, and improve coverage. At the same time, the large dust box can reduce the number of cleanings and store more garbage (clean up once a week).
All of these three Lefant robot vacuums are compatible with Alexa and Google Assistant and can use Lefant App to easily start/stop cleaning with your voice or mobile phone. You can also control the machine via the equipped remote control. To fulfill your various needs, you can freely change modes and suction levels. However, you need to pay attention, Lefant robot vacuums only support 2.4GHz Wi-Fi connection. And they don't have the self-emptying base for 60 days holding.
What is the best Lefant for carpets?
With its excellent cleaning technology, the Lefant F1 is the finest for carpets. This Lefant is the most advanced, with the ability to vacuum corners better than the other versions and many of the Lefants' most notable features. It's also the most expensive choice.
Which Lefant is ideal for you?
The Lefant M210B is a close second and costs a few hundred dollars less if you want something that cleans carpets well but is more affordable. Every model on this list, on the other hand, can clean both carpets and hard floors.
The Lefant M210 is the cheapest choice that cleans well on any flooring. It will still vacuum well and save you hundreds of dollars at a fraction of the cost of current versions.
The best approach to ensure that you obtain a vacuum with the features you want (automatic emptying, mopping, particular room targeting) at the budget you're comfortable with (whether that's around $300 or over $1,000 if it's very great) is to keep your options open as much as possible. Go buy a Lefant robot vacuum and start living a smarter life & have a nice time.
Information
Sign up to our mailing list