Posted on
---
Robot vacuums can cost upwards of $1,000, but you don't have to spend that much money to keep your floors clean and free of debris. If you're on a tight budget, you can rest assured that there are a number of models available on the market that will do the job without costing a fortune. We've tested robot vacuums at nearly every price point, and we've found that there are plenty of good, affordable options available. So, in order to assist you in finding the best bot on a tight budget, we've compiled a list of Lefant highest-rated robot vacuum cleaners that are less than $300.
What to look for in a robot vacuum
The battery life, size, and suction power of a robot vac are all important factors to consider when purchasing one of these machines. Regarding battery life, most robot vacuums today can operate for at least 60 minutes on a single charge, but if you live in a larger home, you'll want to look for one that can operate for 90 minutes or longer. Almost all of the models we've chosen here have battery life that exceeds 100 minutes, but the Lefant F1 takes home the prize for having the longest battery life in our tests, lasting 200 minutes on a single charge.
When it comes to price, some of the most affordable robot vacuums we've tested are also among the most compact, which is a welcome feature for people who have low-profile furniture in their homes. Consider measuring the distance between the floor and the base of your couch to determine which models, if any, will fit underneath it before making your final decision on which one to purchase. Even though the Lefant F1 is the shortest robot vacuum we've tested, at only 2.7 inches, there are several other affordable and highly rated models under 3 inches available, including the Lefant M210 and the M210B, that are 2.8 inches high.
In terms of suction power, the majority of the models on this list provide at least 1,800Pa, but the Lefant F1 provides an impressive 4000Pa. Robot vacuums with lower suction power but longer battery life and better obstacle avoidance capabilities can still perform admirably in the cleaning department.
Other features
On the high end of the robot vacuum market, you can find models with high-end features such as artificial intelligence-powered obstacle avoidance, automatic bin emptying, cameras for remote home monitoring, and smart maps for creating virtual boundaries in your home. In the sub-$300 range, you won't usually find these features, but Lefant has some practical perks such as app connectivity, smart home, and remotely control available.
With a Wi-Fi-connected robot vacuum, you can start, stop, and schedule cleaning jobs all from the convenience of your mobile device. Wi-Fi is quickly becoming a standard feature in today's devices, you can get a basic Lefant bot that performs admirably for less than $200. This includes the Lefant M210, which is the most affordable vacuum on this list at $115.99. It also happens to be powerful.


Best budget robot vacuum for bare floors: Lefant M210
The Lefant M210 Robot Vacuum is the best budget robot vacuum for bare floors that we've found so far in our testing. When used on bare floors, this budget-friendly robot vacuum provides excellent performance, easily picking up pet hair and small and bulky debris such as rice or cereal, among other things.
This robot vacuum, like other Lefant budget-friendly robot vacuums, is equipped with a FreeMove2.0 Technology that helps the robot vacuum sense the surrounding situation in 360 degrees, allowing detect probable stuck areas and adjust the cleaning path automatically. You can schedule cleaning sessions on the Lefant app for specific areas. This robot is capable of maneuvering itself, and its ability to shuttle under most furniture due to its compact size. It has a premium build quality and excellent overall battery performance, though its maximum runtime of more than 100 minutes is still not as long as some alternatives in this price range and class.
Plus, the internal dustbin of this vacuum is relatively large and don't need to be emptied on a regular basis. Considering this, its reasonably low price, excellent performance on bare floors, and advanced anti-avoidance features make it one of the best robot vacuums that we've ever tested.
Best affordable robot vacuum: Lefant F1
The Lefant F1 is the best expensive robot vacuum cleaner that we've found so far in this list. When used on bare floors, this robot vacuum cleans pet hair, as well as bulky and small debris, such as cereal or rice, with ease and efficiency. Its suction power is 4000pa, about twice than Lefant M210. In addition to app control, this affordable robot vacuum also supports Amazon Alexa or Google Assistant for added convenience. If you also own a compatible smart speaker, you'll be able to control Lefant F1 using your voice.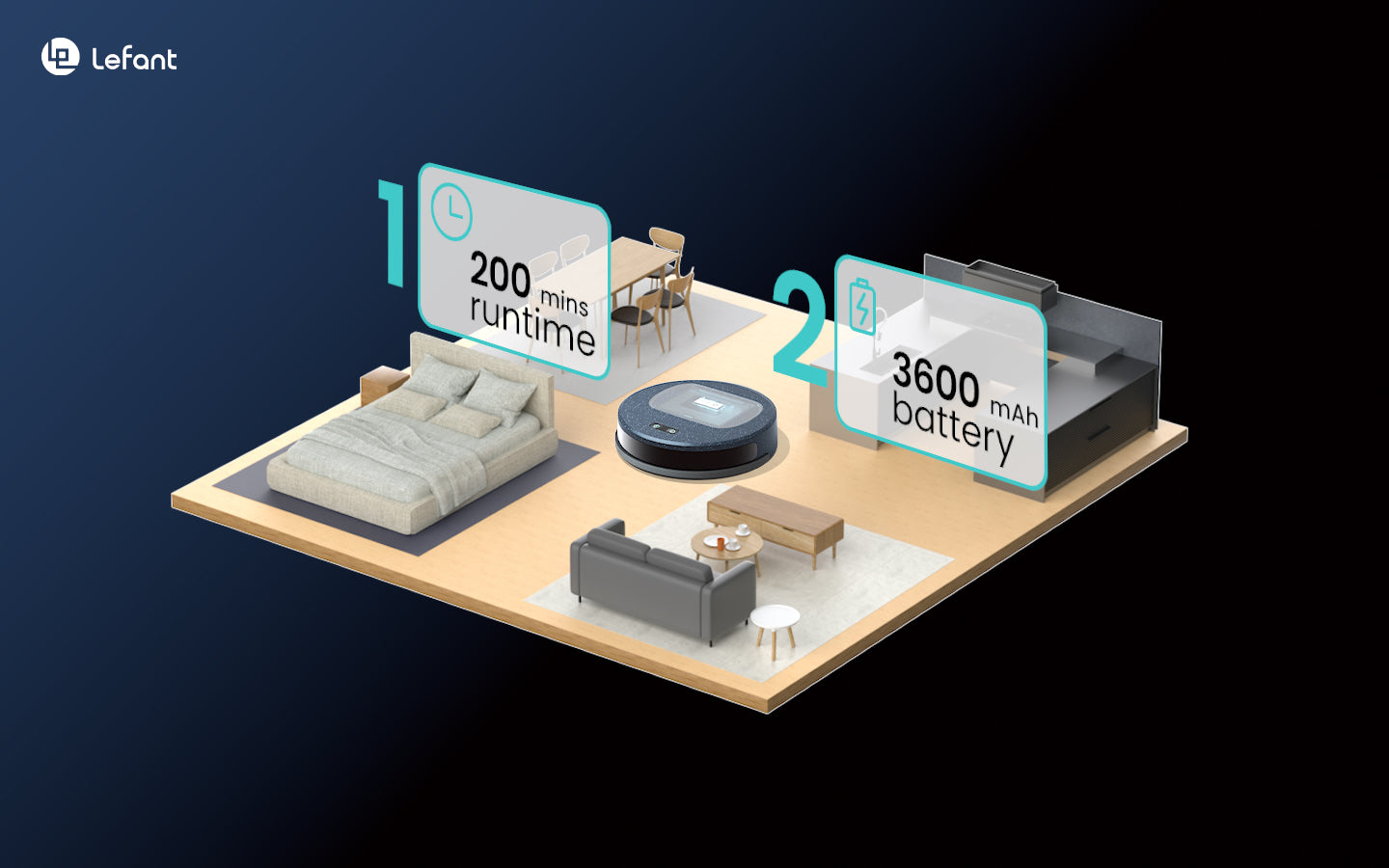 Despite its low price, it feels well-constructed, thanks to a body made primarily of dense matte-finish plastic and wheels with rubber treads on the bottom. Because of its small size, it is simple to store and maneuver under couches, tables, and other pieces of furniture. Depending on the power setting you choose, this vacuum can provide anywhere from 50 to more than 230 minutes of continuous runtime, which should be more than enough time to clean most large houses. If you have furry friends, you might need a Lefant to help you eliminate shedding hairs. The clean mode of "spot cleaning" for a specific area, that is convenient for pet owners.
Because of its unique Freemove3.0 technology, it senses obstacles encountered by the whole body and retreat automatically. While you are unable to set up virtual boundary markers, you can purchase magnetic strips separately to prevent the vacuum from entering specific areas of your home. Overall, the good build quality and excellent bare floor performance of this vacuum, as well as it can also use as robot mop which make it an excellent choice if you're looking for a low-cost hands-free cleaning solution.
Unfortunately, Lefant vacuums all have a difficult time cleaning messes on high-pile carpet, particularly those involving small, fine materials such as baking soda and pet fur. But suitable for low-pile carpets, tile, laminated, and hardwood floors.
All reviews
Our recommendations above are what we believe to be the best budget-friendly robot vacuums available right now for the majority of people. We take into consideration the price, feedback from our clients, and the availability of the item.
While no vacuum is perfect for every application, the vast majority of vacuums are good enough to satisfy almost everyone, and the differences are often not noticeable unless you look for them specifically.
Information
Sign up to our mailing list