Posted on
---
Lefant vacuums are designed to assist busy families who are looking for convenient and efficient ways to keep up with household maintenance and cleaning tasks. The product line by Lefant is a well-known name in the world of hands-free cleaners. It includes a variety of small but effective robot vacuums that are equipped with smart features such as avoiding obstacles, as well as smart home with apps, Wi-Fi, and voice command. It can be difficult, however, to choose the best Lefant for your needs because it offers several models. Every model on the market can handle a variety of household cleaning tasks, whether you're scrubbing the floor or extracting pet hair from the rug.
What to consider when choosing the best Lefant
One of the best things about Lefant is that there is a model to suit every size home and every budget range. There will be slight differences between products in terms of smart features, suction power, battery life, and cleaning capabilities. Consider your cleaning objectives and the following common shopping considerations before selecting the best Lefant for your needs.
Suction power
Cleaning dirt and debris with four cleaning modes are standard on all Lefant vacuums; however, the power varies depending on which Lefant model you have. The suction power of higher-end models will be the most powerful available. For example, the F1 has four times the suction power of the M210; as a result, users looking for a more thorough clean may want to select a model that has this feature in consideration.
A Lefant, on the other hand, will not be able to match the power of or completely replace a traditional vacuum. The suction power of the smaller device cannot keep up with the larger devices, and the collected debris is drawn into a small internal bin, which has a limited capacity instead.
Smart capabilities
Owners can have complete control over their cleaning schedule and preferences by using the Lefant app, which can be accessed from their smartphone or tablet. Users can set their Lefant to clean while they are away from home, or they can schedule it to clean at a predetermined time.
Lefant's cleaning history will be recorded in the app, allowing users to keep track of which areas have been vacuumed and which have not. Most models are compatible with Alexa or Google Home, allowing you to take advantage of the convenient voice activation feature.
Lefant all include a self-charging feature, which means that when they run out of battery power, they will return to their recharge stations. Some devices offer a "recharge and resume" capability that allows them to resume cleaning where they left off, while others will have to restart.  
Freemove technology
All Lefants include obstacle sensors and can detect probable stuck areas and adjust the cleaning path automatically, but higher-end models will have more advanced Freemove3.0 systems. The integrated whole body detection technology can help automatically sense obstacles encountered by the whole body and retreat.
Floor surface
The majority of robot vacuums are designed to work better on particular surfaces than others. Lefant vacuums, on the other hand, are best successful in uncluttered areas with solid surfacing or low- to medium-pile carpet. Shag and other high-pile rugs may have a threshold that the robot cannot cross, or the fibers may clog the brush. Many Lefants can easily transition from carpeting to solid flooring like hardwood floors or tile; however, customers with thicker carpet may want to look for models with more suction, a larger dustbin, and a longer battery life.
Additional features
When choosing the model that is best suited to your cleaning needs, there are a few more things to consider. A brushless port is especially useful for pet owners because it will never be entangled with pet hairs. The compact size and low height of most Lefant robot vacuums make them ideal for picking up trash beneath furniture.
Our top picks
Lefant robot vacuum cleaners with the best suction power and smart capabilities will be able to meet the needs of their users. These top selections can help customers choose the ideal Lefant, whether they're searching for a crumb finder or a pet hair attacker.
Best overall: Lefant F1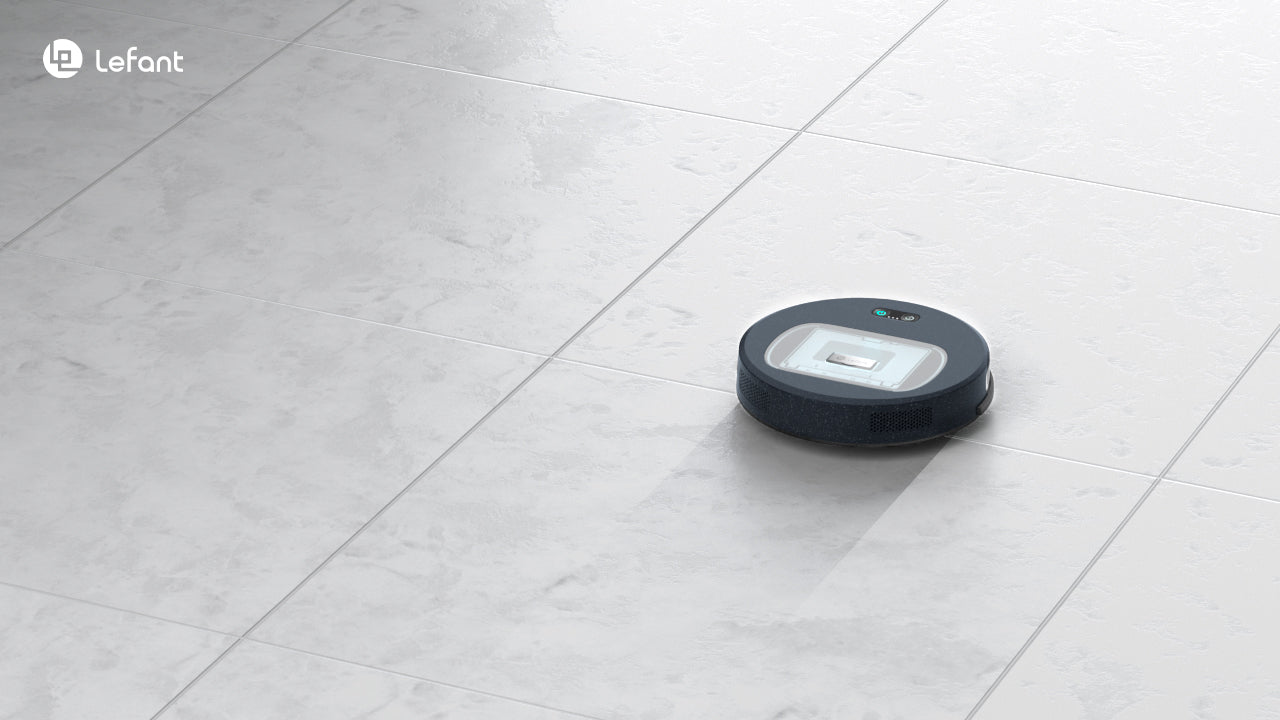 Standard features like Lefant's mopping function and obstacle detecting sensors combine with advanced suction power and smart Freemove3.0 technology to make this Lefant a great choice. The F1 has four times the suction power of older models, such as the M210.
The Lefant app and voice prompts with Alexa or Google Assistant can be used to program preferences.
The dual brushless ports can easily remove hair to reduce the tangles of pet hair. After around 200 minutes of battery use, the recharge and resume mechanism kicks in. Lefant F1's cleaning performance on both floor and carpeting is excellent, and the robot also mops that's why we like it so much.
Best budget robot vacuum: Lefant M210
Users can utilize the Lefant app to access capabilities like online scheduling and voice activation with Alexa or Google Assistants, which are generally reserved for higher-end products. The M210 is one of the most economical robot vacuums, despite having lower suction than some more advanced models. Its Freemove2.0 technology and brushless port effectively remove debris, while side brushes effectively clean your floors including corners and edges.
This is the finest economical option. Although the robot vacuum does not have mapping capabilities, whole body sensors prevent it from colliding with objects or going down stairs.
Best bang for the buck: Lefant M210B
With slightly higher suction power than M210 but yet somewhat less than the F1, the M210B is a decent middle option. It isn't a smart self-emptying robot vacuum, but it does have superior sensors that allow it to avoid obstacle around furniture and along corners. For your convenience, For your convenience, it offers extra wipes for you to make your cleaner 2 in 1 vacuuming and mopping combo. If you want the robot mops bare floors while sweeping, you can stick the wet cloth onto the bottom to start clean directly, which is very convenient.
Users can connect to the Lefant app or use remote control and voice activation devices using Wi-Fi. The dual brushless port and large visible dustbin are other great features, making this bot a suitable choice for families with dogs and dander. The device will run for up to 100 minutes before docking and recharging itself.
Information
Sign up to our mailing list