Posted on
---
Although we all adore our pets, shedding can be a real bother. If you have a cat or dog that sheds a lot of fur, you might want to consider investing in a robot vacuum to help you with some of the cleaning. There are plenty of options available, but choosing one that works well, has the features you want, and is within your budget can be difficult. We're here to assist you.
 
The Lefant robot vacuums on this list range in price from low to high, with the most expensive models including original obstacle avoidance technology, Lefant App so you can command on your smartphone while you're away, and even the brushless port so you don't have to deal with what's entangled. Of course, each of these robot vacuum cleaners is capable of removing pet hair, especially from carpeting, which is more difficult to clean than hardwood floors or tile.
 
In general, Lefant robot vacuums these days are controlled by its app, allowing you to start a cleaning operation from your phone, while some other low-cost robot vacuums are exclusively controlled via the provided remote. And Lefant also is compatible with Amazon Alexa and/or Google Assistant integration, allowing you to start cleaning with a simple voice command.
 
Budget-friendly Lefant vacuums typically has a little bit low suction power, while mid-range and premium models feature higher suction power so they work more effectively, making cleanliness effortless. Some can also map your home, and support area cleaning and sub-regional magnetic stripe to vacuum specific rooms and avoid others. No matter which you choose, all the models on this list can handle pet hair with aplomb.
Lefant F1: Best Robot Vacuum For Pet Hair
The suction power of a robot vacuum is one of the most significant concerns if you're going to buy one to assist you deal with pet fur. Most firms in this market advertise power in pascals (Pa), which is the metric measure of pressure. In general, the higher the Pa, especially if you have carpet, the better the performance, but battery life and obstacle avoidance capabilities also play a role in overall performance of the machine.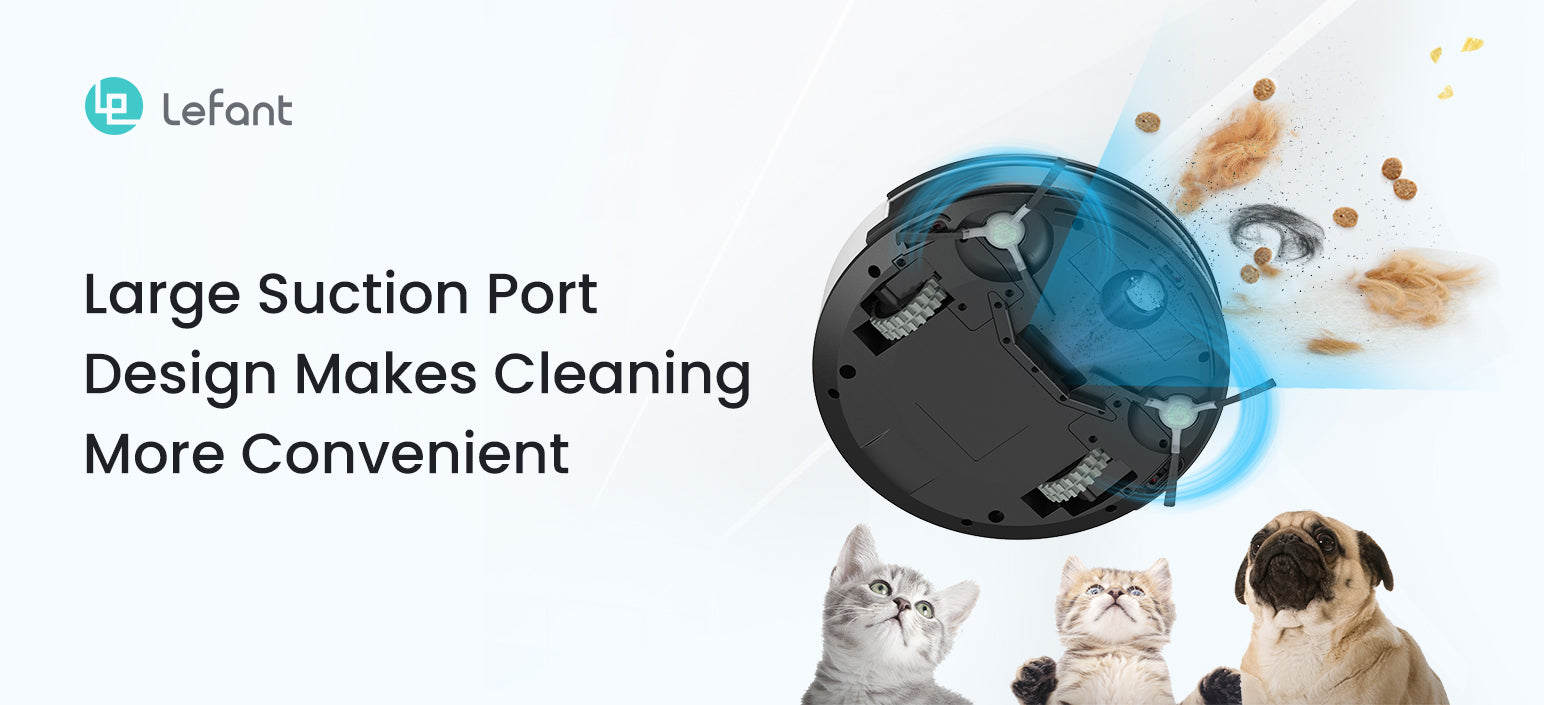 The Lefant F1 is the best robot vacuum for pet hair without doubt that we've come across. It has a good suction about 4000pa that easily picks up pet hair. Made of high-grade plastic, this is a high-end vacuum cleaner with excellent build quality. It is remarkably effective at picking up pet hair from all types of surfaces. The whole-body sensors of the machine are also great for detecting surroundings, allowing it to avoid obstacle easily. It can climb up to 15° which allows it to work in the different surface types (e.g hardwood and carpet) non-stop and clean thoroughly.
 
It is equipped with a Freemove3.0 technology that allows it to automatically sense obstacles encountered and will not be arbitrarily crossed that are increasingly efficient. The F1 also comes with a slew of features that are ideal for anyone who is interested in smart homes. Following a successful connection to the Lefant app, it generates a virtual map of your room on which you can schedule cleaning sessions and you can also place sub-regional magnetic stripe so that specific rooms can be cleaned. It also allows you to monitor the vacuum's battery life and turn it on and off from a distance. The vacuum has a fantastic battery life and a relatively quick recharge time, and it is also reasonably priced.
 
A compact robot, which can be handy if you need to move it up or down stairs or from one room to another. With a diameter of 11 inches and a height of 2.7 inches, it can clean underneath sofa, bed, TV table easily, and will never get stuck at the bottom of furniture. It has a visible dust bin so that you can see when it needs to be emptied out it and does work well with Alexa. Plus, it is geared with brushless port rather than brush roll which can be tangled with pet hairs. This is one of the primary reasons why we believe the F1 is an excellent choice for cat owners.
 
In all, this is one of the best multi-surface (except high-pile carpet) vacuums we've tested, and the vast majority of users will be satisfied with it.
Lefant M210: Best Budget Robot Vacuum For Pet Hair
The Lefant M210 is the best robot vacuum for pets that we've tested in the budget category, and it's also the most affordable. However, despite its relatively low price, the high-grade plastic construction of this product feels extremely durable. Depending on the suction power mode you choose and your usage habits, it can run for approximately 100 mins or 100 sqft on a continuous basis, which should be more than enough time to clean an apartment.
This vacuum cleaner has the ability to automatically detect probable stuck areas and adjust the cleaning path. It is equipped with a brushless port as well as side brushes and does an excellent job of sucking up pet hair from a variety of surfaces, including hardwood and tile floors as well as middle-pile carpeting. This vacuum cleaner is also remarkably maneuverable, as it effortlessly avoids obstacles such as furniture and is small enough to clean under some couches and tables.
 
It does not support more advanced automation features, such as virtual boundary markers or the scheduling of cleaning sessions for specific rooms. Otherwise, if you're looking for a budget-friendly robot vacuum that can easily handle pet hair, this is a fantastic option to consider!
Lefant M210B: Mid-premium Robot Vacuum for pet hair
Who would have thought that one of the affordable robot vacuums on the market would also be one of the most effective at removing pet hair? The Lefant M210B is a low-cost vacuum cleaner that is light on bells and whistles but heavy on keeping your floors free of fur. This smart robot distinguishes itself from the competition by having a suction opening rather than a brush roll for ingesting debris. Not only does this help with picking up dog hair, but it also makes maintenance easier because you won't have to spend time removing hair from a brush roll as you would with a traditional brush roll.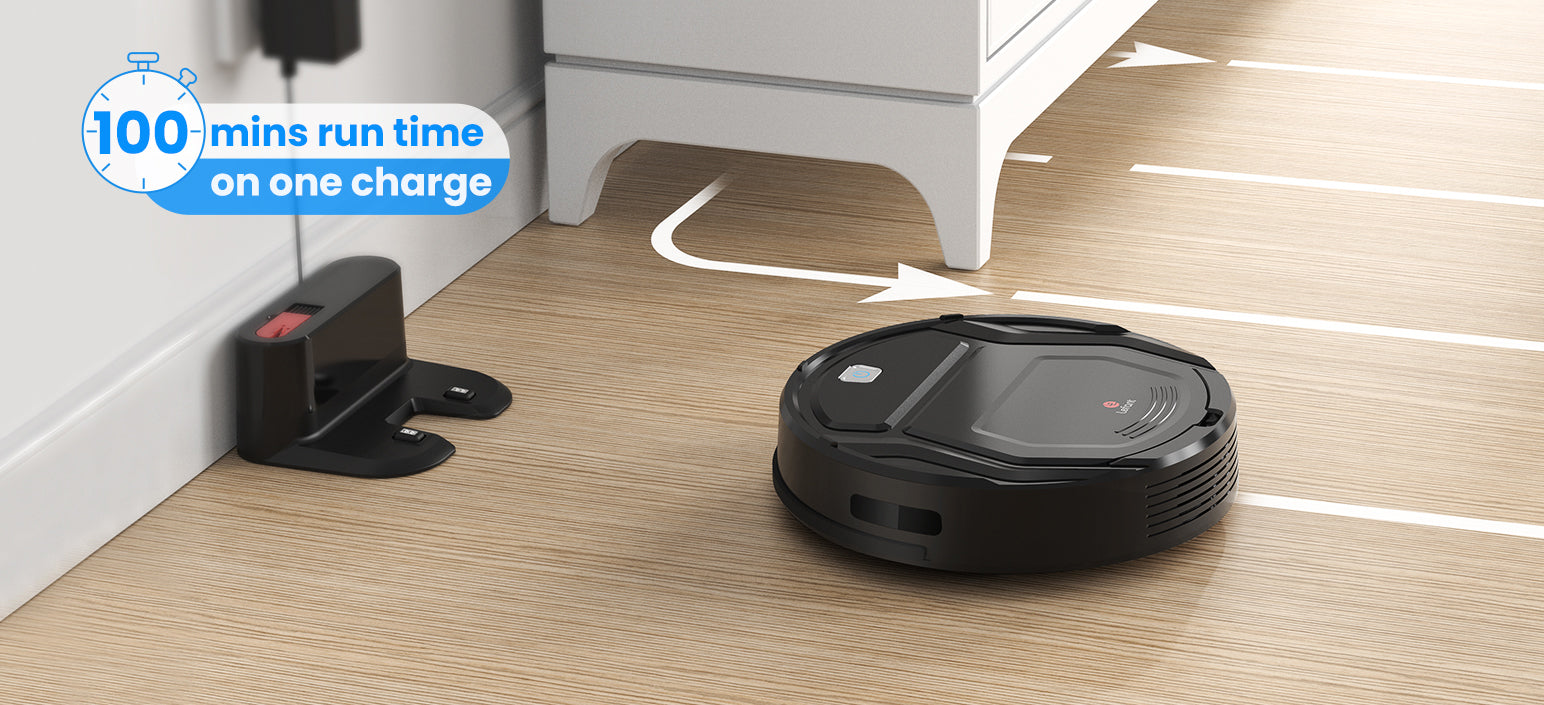 When used on flat, even surfaces such as hardwood floors, this vacuum provides excellent pet hair cleaning performance. It even comes with a mopping attachment that is designed to clean up messes on bare floors, according to the manufacturer. With a large number of obstacles in your home, its anti-collision infrared sensors are extremely useful, allowing it sense the surrounding situation in 360 degrees and avoid mopping over carpets. A single charge provides approximately 100Mins run time or approximately 100 sqft., which is exceptional considering the size of the battery pack. What's more, not only does the Lefant M210B let you start, stop, and schedule from your phone, but also M210B lets you do that with just the sound of your voice, since it's Alexa- and Google Assistant-compatible.
 
The Lefant M210B performs best on bare surfaces such as hardwood floors and tile, though it is also effective on low-pile rugs and carpets. The Lefant M210B auto cleaning pattern means that it may miss a few spots or, as we discovered in our review, become fixated on a specific area. If you're okay with giving the Lefant M210B a little extra attention, this incredible value will do wonders for your hardwood floors.
 
Notice: All of Lefant robot vacuums only supports 2.4GHz Wi-Fi.
What you need to know about robot vacuums?
The ability of a robot vacuum to pick up dirt pales in contrast to that of a full-sized vacuum, and it can only truly compete over the course of a week. We discovered that when consumers consider their robot vacuums as a way to maintain their floors in between manual cleanings, they report the greatest level of happiness with them.
 
The majority of robot vacuums are intended for use on bare floors or medium-density carpeting. It is possible that your robot vacuum will be unable to climb atop throw rugs that are more than one-half inch in height, or it may become stuck after it does so. The importance of this information for pet owners is that it indicates that pet beds are a source of contention.
Are robot vacuums worth the money?
If you have a pet, a robot vacuum can help you get rid of the balls of fur that accumulate everywhere. They can save a significant amount of time and energy by acting as a floor maintainer in between manual cleanings.
 
The best approach to get the most out of your investment is to program a robot vacuum to run automatically every day.
 
Getting one that can be controlled via a smartphone app is also a plus for those occasions when you need to give your floors a once-over before welcoming any last-minute surprise guests into your home.
How to choose the best robot vacuum for pet hair?
A few factors should be taken into consideration before purchasing a robot vacuum for yourself and your pets. First and foremost, consider the number of pets you have in your home, as well as the amount of hair they are actually shedding. It depends on whether they have long or short fur, and whether or not they shed on a regular basis. You should also consider whether you want the robot vacuum to assist you with other cleaning tasks, such as mopping, in addition to cleaning.
Information
Sign up to our mailing list